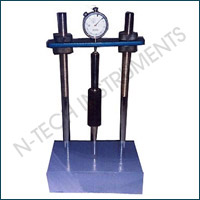 Length Comparator
CODE NO. - NTI-CCT-010
Length Comparator
It is used to measure the drying shrinkage of concrete autoclave expansion of Portland cement and potential expansive reactivity of cement aggregate combinations in mortar bars during storage on self drying.
Specifications
The instrument consists of a channeled base over which two vertical pillars are fixed. An adjustable cross plate is at the top. A dial gauge, reading to .002mm x 12mm. can be fixed to the top cross plate. The plunger end of the dial gauge can be located upon a 6.5mm dia ball or other reference point cemented in the specimen. On the base there is a similar recessed seating in which can be placed a second ball or reference pint in the specimen. Complete with a stainless steel standardization bar with insulated grip and with 6.5mm dia. balls mounted in the ends. The unit can be supplied with a .0001inch x 1/2inch x 1/2inch dial gauge at extra cost if indicated at the time of placing the order.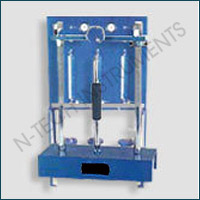 Permeability Tester
CODE NO. - NTI-CCT-011
Permeability Tester
This apparatus is used to test the flow of water through the cement concrete specimen, which in turn checks durability of mix. It is available in 1- 3 nos. of cells.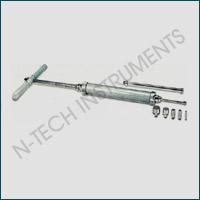 Penetrometer
CODE NO. - NTI-CCT-012
Penetrometer
As Per IS Standard 8142
Penetrometer consists of cylindrical spring housing with plunger attached to the top of the spring. Penetration needle is attached to the other end of the spring housing. The plunger is graduated in 1 kg divisions, to maximum capacity of 60 kg, which can be read with respect to the top end of the spring housing. A set of six needle points with areas of 645, 323, 161, 65, 32 and 16 mm2 are provided.
Supplied complete in a wooden carrying case.
Slump Test Apparatus
CODE NO. - NTI-CCT-013
Slump Test Apparatus
Conforming to BIS -7320. This apparatus used for the determination of workability of concrete where nominal size of aggregate does not exceed 38 mm. The apparatus comprises of a slump cone with foot pieces fitted on a base with wing bolts. A swivel carrying handle fitted with the base also serves as a datem for measuring the slump, when moved into vertical position perpendicular to the base. A graduated tamping rod is used both for compacting the specimen as well as measuring the slump of concrete.

The slump cone is filled with freshly mixed concrete and is tamped with a tamping bar in three or four layers. The top of the concrete is leveled off with the top of the slump cone, the cone is lifted vertically up and the slump of the sample is immediately measured.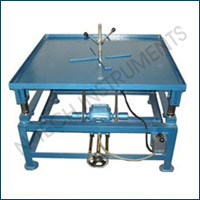 Vibrating Table
CODE NO. - NTI-CCT-014
Vibrating Table
Proper compaction of cement concrete while casting specimens for compression testing is desirable to achieve a better and more consistent mixture. Vibrating table is ideally suited for this purpose. The table top is 1000 mm x 1000 mm and has stops along its edges to prevent moulds from sliding off the table during operation.

The maximum load capacity is 250 kg. The variable pitch pulley arrangement permits the frequency to be varied steplessly between 600 cycles / sec. and 430 cycles / sec. Suitable for operation 415 volts, 3 phase. 50 Hz. A.C. supply.
Air Entrainment Meter
CODE NO. - NTI-CCT-015
Air Entrainment Meter
AS PER I.S. 9799
Capacity - 0.005 cum. For concrete containing nominal maximum size of aggregate of 38 mm. The apparatus consists of a measuring bowl of 0.005 cm capacity. A flanged conical cover assembly fits over the bowl and can be sealed with clamps keeping a rubber gasket in between. A water inlet valve with a spray tube and an air bleed valve are fitted on the conical cover assembly. A Perspex cylindrical graduated stand pipe is fitted on the conical cover assembly. A pressure gauge is mounted on the top of the stand pipe. A hand pump is provided for the application of pressure.
Supplied complete with a calibrating cylinder, a rubber mallet, a measure and a tamping rod.
Air Permeability Apparatus
It is used for determination of fineness of cements, pozzolanss and other powdery material in terms of specific surface, which is expressed as total surface area in sq. cm. per gram of material under test.
The apparatus comprises the followings:-
Standard Permeability cell made of brass, 12.5 mm. inside dia with one perforated metal disc and one plunger.
A U - tube glass manometer with rubber coupling for permeability cell, mounted on a wooden stand.
Latex rubber tubing, 30 cm. long.
250 ml. Dibutylphthalate liquid
Vicat Apparatus
Vicat apparatus is used to confirm the water quantity required to produce the cement paste of standard consistancy. Its frame carry consistancy plunger of 10mm diameter.



Air Permeability Apparatus

CODE NO. - NTI-CCT-016




Vicat Apparatus

CODE NO. - NTI-CCT-017
Compression Testing Machine (Electrical)
The machine embodies a hydraulic system designed to meet the requirement of IS 516-1959 for compression tests on concrete cubes up to 15cm X 15cm X 15cm and also concrete cylinders up to 30cm height.

Loading Unit- The hydraulic jack is fixed to base. The upper platen has got a self-aligning action and is attached to a screw which passes through the cross-head plate, and can be raised or lowered for initial clearance adjustment. The lower platen rests on the jack ram and is positioned with the help of a centering pin. Loading is accomplished by the upward movement of the lower platen. A dust cover is provided on the jack to prevent any dust from going into the cylinder. A spacer with a centering locating pin is provided to test small specimens. The lower and upper platens of the machine are hardened, ground and polished. Guidelines are marked on the lower platen to keep the specimen coaxial with the hydraulic jack.

Pumping Unit- The motorized pumping unit, which is housed in an elegant console, is of double plunger type and is driven by a single phase 220 Volts 50 cycles electric motor. The pumping unit is a separate unit connected to the jack by means of a rubber hose pipe. A junction box is suitably fixed to connect the motor to the mains through a push button starter. The pumping unit is fitted with a 20cm dia dial hydraulic pressure gauge calibrated by N.C.B.M. A max red pointer is provided to facilitate taking readings after failure of the specimen. The pressure gauge is fixed at an angle for easy readability. The machine is fitted with a hand wheel control which enables the rate of application of load to be varied. "The machine is equipped with facilities for hand pumping in case of power failure." The electric pumping unit is fixed with a micro-switch to switch-off the motor automatically as the load on the machine approaches the rated capacity. Relays are incorporated in the pumping unit so that in case of breakdown of power supply, the motor will stop and will not re-start unless the starting switch is operated.

Capacities available- 10 tonnes, 25 tonnes, 50 tonnes, 100 tonnes, 200 tonnes.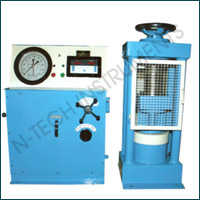 Compression Testing Machine
CODE NO. - NTI-CCT-018
Compression Testing Machine (Digital)
Specification is same as above but it is provided with digital load indicator.
Features of Load Indicator
Aesthetically designed front panel with membrane switches.
Separate displays for load indication and maximum range.
Peak/Normal mode selectable.
Configuration lock at rear to prevent tampering with range.
Specification
Range- 1KN to 9999.
Load- 1KN to Range.
Set Load (limit) - 1KN to 9999.
Accuracy- ± 0.1% of full scale ± 1 digit.
Capacities available- 10 tonnes, 25 tonnes, 50 tonnes, 100 tonnes, 200 tonnes.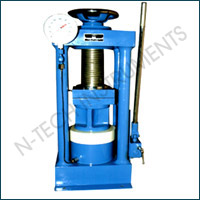 Compression Testing Machine (Hand Operated)
CODE NO. - NTI-CCT-019
Compression Testing Machine (Hand Operated)
This machine is used for compression test on cement and concrete or similar materials. Suitable for use on concrete cubes of any size up to 15 X 15 X 15cm and also on 15 X 30cm high concrete cylinders. The load is applied through hydraulic assembly. The lower platen is on the hydraulic ram, and the upper having a spherical seating is adjustable. The machine is provided with an air release valve and the load is automatically indicated on the 15cms dia hydraulic pressure gauge calibrated against an N.C.B.M tested proving ring and fitted with a legless max pointer in addition to the 'live' pointer.

Capacities available- 10 tonnes to 25 tonnes, 50 tonnes, 100 tonnes, 200 tonnes.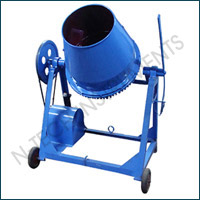 Laboratory Concrete Mixer
CODE NO. - NTI-CCT-020
Laboratory Concrete Mixer
Concrete mixer laboratory type electrically operated. Designed to remove the burden-some work of hand mixing. Uniform thoroughly mixed batches can be produced. The counter-balance drum is easy to tilt 1 ½ to 2 cu. ft. mix. The total drum volume is, however, 3 cu. ft. mounted on a sturdy rubber tyred stand; the drum is mounted for end discharge and equipped with end towing pole.

Equipped with ½ h.p. electric motor, suitable for operation on 220 volts. A.C. single phase.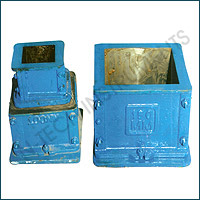 Cube Moulds
CODE NO. - NTI-CCT-021
Cube Moulds (As per BIS-516)
Steel cube mould 7.06 cm for vibrating machine complete with base plate.
Cast Iron Cube Moulds complete with base plate Size 5cm x 5cm x 5cm.
Cast Iron Cube Moulds complete with base plate. Size 10cm x 10cm x 10cm.
Cast Iron Cube Moulds complete with base plate. Size 15cm x 15cm x 15cm
Cast Iron Cube mould complete with base plate size 20cm x 20cm x 20cm.