Home
»
Our Products
» Cement And Concrete Testing
Cement And Concrete Testing
We manufacture cement testing machines, lime testing machines and mortar testing machines to fit your requirements and even custom- design them if required. We offer quality machines that includes: Cement Testing Equipments, Cement Tensile Testing Machine, Flexure Strength Testing Machine, Gauging Trowel, Jaw Crushers and many other machines. Our tester is ideally suited for advanced concrete compression testing where frame stiffness is critical. The Ultra-stiff frame design permits advanced testing of concretes. Our quality testing machines includes: Concrete Testing Equipments, Air Entrainment Meter, Air Permeability Apparatus, Moulding, Demountable Mechanical and more machines.
Lab Jaw Crushers
CODE NO. - NTI-CCT-01
Lab Jaw Crushers
The crusher has maganess steel jaws. The opening of the jaws is adjustable from 20 mm to 6 mm. The capacity is 200 kg/hr. The crusher is made of cast steel. The jaws have forward and downward strokes with sufficient rocking action to throw crushed material down to the jaws. A hopper is provided at the top for pouring material. The crusher is supplied complete with 3 h.p. electric motor, triple V-belt pulley drive and mounting frame.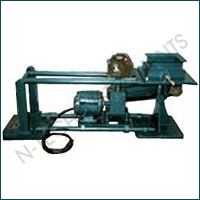 Jolting Apparatus
CODE NO. - NTI-CCT-02
Jolting Apparatus
BIS - 4031-1968, BIS - 1727-1967. For moulding of three standard square sectioned specimens of 40 mm x 40 mm x 160 mm size of Portland and pozzolana cement mortar for the determination of transverse strength. The equipment consists of the following:
A motorized Jolting. Machine as per BIS specification which gives 60 jolts per minute to the rectangular table through a reduction gear and cam drive. A pre-set type counter with a micro-switch stops the pins for properly locating and clamping the moulds.
A three compartment mould for preparing three specimens of 40 mm x 40 mm x 160 mm size.
A three compartment hopper which can be mounted on the mould for pouring the mortar into the mould.
Suitable for operation on 220 volts, 50 Hz. Single phase supply.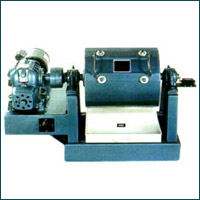 Laboratory Ball Mill
CODE NO. - NTI-CCT-03
Laboratory Ball Mill
For mixing and grinding purposes: Electrically operated having capacity from few grams to 1 kg approximately. Fitted with Fractional Horse Power Motor Gear with the maximum 80 R.P.M. The jar is made of Aluminium and having steel balls of different sizes to be put in the jar mixing and grinding pesticidal powders. Jar is interchangeable and easily removable and is light in weight and compact unit to operate on 220 volts, 50 cycles A/C or D/C (as per your requirement).
Capacities of Jar Available
Aluminium Jar Capacity- 1kg, 2kg
Stainless Steel Jar Capacity- 1kg, 2kg.
Laboratory Cement Autoclave
CODE NO. - NTI-CCT-04
Laboratory Cement Autoclave
BIS-4031: It is high pressure autoclave designed especially for conducting accelerated soundness tests on Cement or the autoclave expansion tests. It mounted in a sturdy supporting frame, and enclosed in a heat-insulated/metal housing which is attractively finished in hammertone paint. The top has a pressure regulator safety valve and pressure gauge. The unit attached to the side of the housing has power switches and pilot light for controlling the electric heating unit.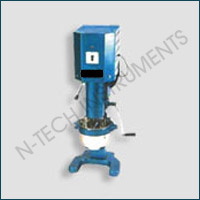 Mortar Mixer
CODE NO. - NTI-CCT-05
Mortar Mixer
The apparatus consists of an epicyclic type stainless steel paddle imparting both planetary and revolving motion, by means of gears. It has two speeds of 140 + 5 r.p.m. and 285 + 10 r.p.m. with planetary motions of approximately 62 r.p.m. + 5 r.p.m. and 125 r.p.m.± 10 r.p.m. respectively. The stand of the mixer has arrangement to raise or lower the bowl. Complete with stainless steel bowl of about six litres capacity. Suitable for operation on 230 volts, 50 cycles, single phase, A.C. supply.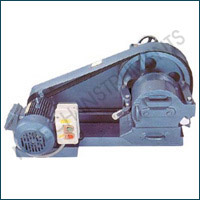 Lab Pulveriser
CODE NO. - NTI-CCT-06
Lab Pulveriser
The Laboratory Pulveriser is a disc type grinder designed for grinding virtually any material to produce a fine mesh sample in one operation. The pulveriser is adopted for use in assay offices, metallurgical, aggregate, quarry, chemical and industrial laboratories. It is a self-contained grinder furnished with rotating disc having a planetary movement in a vertical plane. This feature gives added life to the wearing parts and delivers a product of uniform fineness. The pulveriser will reduce a 1 pound sample of quartz type material to 100 meshes above in 1 minute. Maximum feed size 6 mm.

Grinding is done between two discs, one of which is stationary and the other revolving eccentrically at high speed. The apparatus is supplied with heat treated disc 175 mm in diameter. Adjustment for size of product may be made by use of convenient hand wheel when the machine is in operation or at rest. A self-locking device holds the hinged grinding chamber in place and affords easy and quick access to the grinding chamber for removal of ground samples and for cleaning. The pulveriser is supplied with a 3 h.p. electric motor. V-belt drive. Working on 440 volts, 3 phase A.C.
Vibrating Machine
CODE NO. - NTI-CCT-07
Vibrating Machine
BIS-4031 Vibration is mounted over coiled springs. Vibrations are by means of a revolving shaft with an eccentric. Frequency 12000 ± 400 vibration per minute. Centre of gravity of the vibrator including the cube and mould is either at the centre of the eccentric shaft or within 25 mm below it. Easy assembling and dismantling of cube mould. Provided with belt guard and a time switch. Suitable for operation in 230 volts, 50 cycles single phase A.C. supply. Vibration machine is supplied complete with one cube mould.
Lateral Extensometer
This is for the determination of lateral of 150 mm dia x 200 mm high cement concrete cylinders while testing them under compression. The extensometer consists of two movable frames pivoted at one end. A dial gauge measure, the lateral extension, and a removable spacer strip is for the initial setting of the dial gauge. Mounting of extensometer on the specimen is done with the help of screws. Supplied complete with a dial gauge 0.01 mm x 12 mm.
Longitudinal Compressometer
To test the strain and deformation quality of cement concrete. It is meant for cylinderical specimen of 150mm dia x 300mm length.



Lateral Extensometer

CODE NO. - NTI-CCT-08




Longitudinal Compressometer

CODE NO. - NTI-CCT-09