Bitumen Extractor



Bitumen Extractor (Hand Operated)

CODE NO. - NTI-BTI-01




Bitumen Extractor (Motorized)

CODE NO. - NTI-BTI-02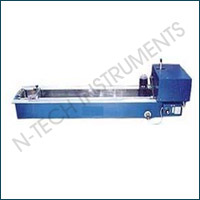 Ductility Testing Machine
CODE NO. - NTI-BTI-03
Ductility Testing Machine
Marshall Apparatus
CODE NO. - NTI-BTI-04
Marshall Apparatus
Automatic Compactor for Bituminous Mixes
CODE NO. - NTI-BTI-05
Automatic Compactor for Bituminous Mixes
Universal Cone Penetrometer, Automatic
CODE NO. - NTI-BTI-06
Universal Cone Penetrometer, Automatic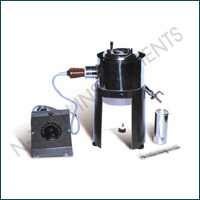 Standard Tar Viscometer
CODE NO. - NTI-BTI-07
Standard Tar Viscometer (cut back asphalt)
It is used to determining the viscosity of fuel oil and lubricating oil (thin and thick). The unit consists of stain less steel bath oil cup that centrally placed in water bath. The bath has a lid, which contains a water-cooling tube. Two handles with two starrier blades, the thermometer soaked and a straight heater, stirring is done by turntable arrangements. To operates on 220 volts AC 50 HZ.
The pour point is the lowest temperature at which the oil will just fail to flow. The apparatus consists of cooling bath made of stainless steel sheet and stand unit drain plug and cover with provision for fitting thermometer and filling aperture for adding freezing mixture.
This apparatus is used for determination of flash and fire point of petroleum products. The apparatus consists of a cleveland Flash Cup made of brass, Gas Test-Jet Assembly, pivoded from a Cast Cup Platform which is fixed to a Heating Bath. Energy Regulator to regulate rate of rise in temperature. Suitable for operation of 230 V, 50 Hz, single phase, AC supply.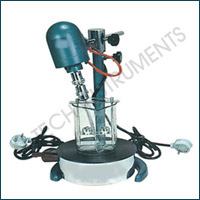 Ring And Ball Apparatus
CODE NO. - NTI-BTI-012
Ring And Ball Apparatus ( As Per I.S. 1205)
For determining the temperature at which a sample of bituminous material drops specified distance when heated under prescribed conditions and loaded by 8 mm. diameter steel ball. Two simultaneous tests can be carried out. The equipment is supplied complete with beaker but without thermometer.