Home
»
Our Products
» Aggregate Testing Equipment
Aggregate Testing Equipment
We are a well known name in manufacturing testing instruments which are available in economical prices. These products are well integrated with various essentials. Following are the products we are offering under this category: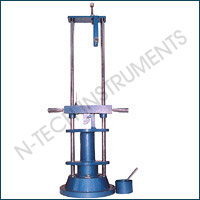 Aggregate Impact Tester
CODE NO. - NTI-ATE-01
Aggregate Impact Tester
We make impact testing machine of premium quality. The main purpose of our impact testing machine is to test the resistance to metals & alloys to external impacts. The salient features of our impact testing machines are:
Large rectangular dial with inner circle for IZOD and outer scale for Charpy test in joules.
The pendulum is supported separately in two positions by a common latching tube, the upper position for Charpy test and the lower for IZOD test, interchangeable strikers for IZOD, Charpy tested.
Front guard provided for safety of operation.
Manual brake for stopping pendulum oscillation after sample failure.
Common specimen holder for IZOD and Charpy test.
Separate strikers for IZOD and Charpy test.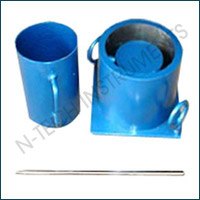 Aggregate Crushing Strength Apparatus
CODE NO. - NTI-ATE-02
Aggregate Crushing Strength Apparatus
Our aggregate crushing value apparatus are used for measuring resistance of an aggregate to crushing. This apparatus is extensively for various industrial applications. Following are some essentials we provide along with the equipment and their respective features:
Cylindrical Cell: 150±0.5 mm ID X 130 to 140 mm height
Plunger: 148 ± 0.5 mm ID X 100 to 115 mm height
Base Plate: 200 to 230 mm square X 6 mm thickness
Tampering rod: 16 mm dia X 450 to 600 mm length
Metal measure: 110 ± 0.5 mm ID X 180 ± 0.5 mm height
Los Angeles Abrasion Machine

CODE NO. - NTI-ATE-03
Los Angeles Abrasion Machine
BIS-2386 is for determination of resistance to wear of coarse aggregate by abrasion. A rolled steel drum totally closed except for removable dust-tight cover is connected to stub shaft and mounted on steel frame to allow rotation about its axis in a horizontal plane. The drum is rotated by one h.p. electric motor. A heavy duty speed reducer coverts the motor speed to required drum speed of 30 to 33 r.p.m. inside the drum is provided a steel shelf which can be easily replaced when worm out due to repeated abrasion tests. Supplied with 12 abrasive charges of 48 mm. dia and Revolution Counter fitted to rotating shaft.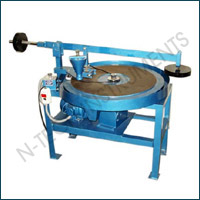 Tile Abrasion Testing Machine
CODE NO. - NTI-ATE-04
Tile Abrasion Testing Machine
We are the leading manufacturer of tile flexure testing machine. These machines are extensively used for determining the resistance to wear for cement concrete flooring tiles. They are provided with a rotating disc, adjustable counter for automatically stopping the machine, a bracket to hold specimen and a counter balance lever to load the specimen. The abrasion of tiles is measured on a thickness gauge specifically made for this purpose. We can offer these tile abrasion testing machines in standard as well as customized specifications.
It consists of the following :-
A grinding disc furnished with a replaceable grinding path and rotating horizontally about its vertical axis.
A circular tray enclosingthe grindingdisc.
Holding device for test specimen.
Reduction gear coupled to a motor for operation on 220 v, 50 Hz, single phase supply.
Revolution counter. (Preset cumulative).
A 7.5 kg weight to apply 30 kg load on specimen through lever.
Accessories
Thickness Measurement Jig with 0.01 mm x 25 mm dial gauge.
Cylindrical Measures
CODE NO. - NTI-ATE-05
Cylindrical Measures
Cylindrical measures are used to determine unit weight of concrete or fine, coarse and mixed aggregates, as well as for void content of aggregates. These measures are immune to cement paste and can also be used for unit weight and yield of fresh concrete. It also indicates the angularity, spherical nature and workability of fine aggregate in a mixture.
Materials used to make Cylindrical Measures These are usually made of heavy duty materials to withstand rough usage.
They are generally made up of :
Sheet Iron
Aluminium
Steel
Metal
Salient Features
Some important features are :-
Cylindrical measures are calibrated and provided with handles.
Consists of three measures, one each of 3 litres capacity, 15 litres capacity and 30 litres capacity.
Provided with a tamping rod which has 16 mm dia and is 600 mm long. One of the ends of the rod is rounded.
These are watertight with top and bottom true and even.
Steel units are seam welded with bail handles; aluminum ones are machined to accurate dimensions and have integral cast handles.
Applications
There are mainly used for determining unit weight of concrete or aggregates. Some of the areas where they find application are:
Testing crushed rock
Cement & concrete industry
Testing of crushed slag & crushed and uncrushed gravel
Construction (Buildings, Roadways, etc.)
Sample Riffle Divider
CODE NO. - NTI-ATE-06
Sample Riffle Divider
For the rapid collection of true representative samples from aggregates, sand and fillers, sample divider is required. Riffle Sample Divider consists of a metal box fitted with a series of chutes of equal width, which discharge the material alternatively in opposite directions into separate pans. The chutes of the riffle are steep enough to allow rapid flow of the material.
Meets:- IS: 1607-1977, 2720, ASTM C 136, D271, D421, D422, D423, D424, D427, D451, D452, D457, D806, BS: 812, 1377, AASHO T27, T87.
Riffle Sample Divider, 13mm slot width, 14 slots and approx. 2.1dm3
Riffle Sample Divider, 25mm slot width, 16 slots and approx. 4.4 dm3
Riffle Sample Divider, 50mm slot width
Riffle Sample Divider, 75mm slot width
Note: - ASTM sizes are also available.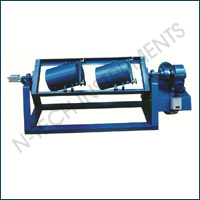 Devel Attrition Testing Machine
CODE NO. - NTI-ATE-07
Devel Attrition Testing Machine (AS PER I.S. 383)
For determination of resistance to wear by attrition iron cylinders 20 cm. dia 34 cm. long with dust and water-tight covers, mounted on shaft with their axis inclined at 30 deg. to the axis of rotation of the shaft. Rotation speed is 30-33 r.p.m Driven by 1 hp. Three phase 440 volts, A.C. motor.